What is the right pricing model for my service?

At Pilvi we have met dozens of founders and those responsible for sales in SaaS. These discussions have given us a clear picture of the issues that are important to online sales. The questions have raised concern with management at SaaS companies, and for good reason, as online sales are the best (and only) way to create hyper fast, super-growth.
You can win or lose a lot depending on your pricing model. A pricing model is different from the price of a product although they are closely connected. The pricing model can often be customized to adjust perceptions of price. The right pricing model lowers the threshold to purchasing because the customer feels the price is appropriate and understands how it is generated.

You need to pay attention when choosing a pricing model and it should also be possible to modify it over time and/or/if & when your business model changes. When creating a whole product it is often necessary to include different pricing models in order to produce an optimal total supply at the right (viable) prices.
The pricing model also differs from pricing strategy. A pricing strategy may be, for example, selling a product below the cost market share, while the pricing model may be cost-based pricing. To some extent, these overlap, and the pricing model is also a key part of your business strategy.
The pricing of SaaS is mostly based on multiple overlapping/parallel models. Pricing models include the following:
Cost-based pricing
Value-based pricing
Portfolio-based pricing
Staggered or volume-based pricing
Competitive pricing
Feature-based pricing
Razor and blade model pricing
Free product and value creation from critical mass
Free product, but services cost
Freemium, free start (pay later)
1) Cost-based pricing
The price of the product is based on its costs. A pricing model typically used for physical products or bulk-type services (server capacity). Cost-based pricing is a good basis for starting pricing even if the product being sold is a license or a SaaS service. With a SaaS service, at a minimum, the cost share of capacity used for the service price should be calculated/known.
Suitability for SaaS: Partial. Good when used with feature-based pricing.
2) Value-based pricing
Suitable when the value produced by the product is clearly calculable/can be seen, e.g. in the form of increasing savings, diminishing risks or additional sales. Not suitable for products where an acquisition is based on emotional value, which is not a "must-have" level. For some people, brands and fancy goods are very value-based, and therefore the same product costs 2x or 10x the real value when it has the right label.
Suitability for SaaS: Not by itself. Good with feature-based pricing.
3) Portfolio-based pricing
The pricing method for the more mature companies based on the fact that a vast array of products are sold to customers. Individual products are sold on a case-by-case basis at overpriced, undercut prices or given as deal sweeteners. The entirety is the deciding factor. Different product-specific pricing models can be used for different portfolio products.
Suitability for SaaS: No
4) Staggered or Volume-based pricing
Usage-based pricing is often also mentioned. There can be one or more variables. One of the pricing models typical for B2B-type services and services that consume some capacity.
A basic error for SaaS companies is to price the product strongly according to the number of users when the product is targeted for business use and a wide range of users is advised. The recommendation is that cost-based user-based bid-ding be included, but the base price driver is preferably other than value-based. However, this is often difficult.
Suitability for SaaS: Good (B2B, Capacity-Based), Poor (B2C or B2B user-friendly, community or team application)
6) Competitive pricing
The price of the product is based on the price of competitors (lower) or the price of other products comparable to the product that has the same type of return or buyer profile/purpose.
Suitability for SaaS: Good for each on a case-by-case basis.
7) Feature-based pricing
The price of a product is determined by its features. Feature-based pricing is often a secondary criterion, where a basic product has a price, and with additional features, the price changes. Feature-based pricing is often paired with another pricing model – for example, cost-based pricing on machines and devices (for example, automobile + accessories).
In SaaS, a popular way to price is to build packaged price versions based on the capacity (= volume-based pricing) and features used. A sales criterion is created when the need (feature) is activated when it is used, or when the capacity is out of stock (e.g. the user account status).
Suitability for SaaS: Very good.
8) Razor and Blade model
The customer first gets the product at a low price, but the supplies or services that are essential to the product cost more. The anchor product is often sold at a loss in order to increase sales of a complementary good
Suitability for SaaS: To some extent, cf. Freemium
9) Free product and value creation from critical mass
The model is best suited for large online consumer services. Services are free to users and revenue comes from either user transactions (marketplaces) or ads (social media).
Suitability for SaaS: No. The user-base will probably not create a critical mass.
10) Free product, but services cost
The product itself is free for the user but under the guise of selling other services, professional expert services or productized solutions. For example, the design tool is free, but customer-specific templates cost.
Services can, of course, also be continuous automated services or product add-ons. In this case, close to razor and blade model or Freemium.
Suitability for SaaS: Yes
11) Freemium, free start (pay later)
The customer receives the basic version of the product for free but updating upwards or paying for specific features of the product. The Freemium model works for many SaaS companies. It can target a different customer segment or the role of Freemium users may be different from the role of users of paid products.
Suitability for SaaS: Yes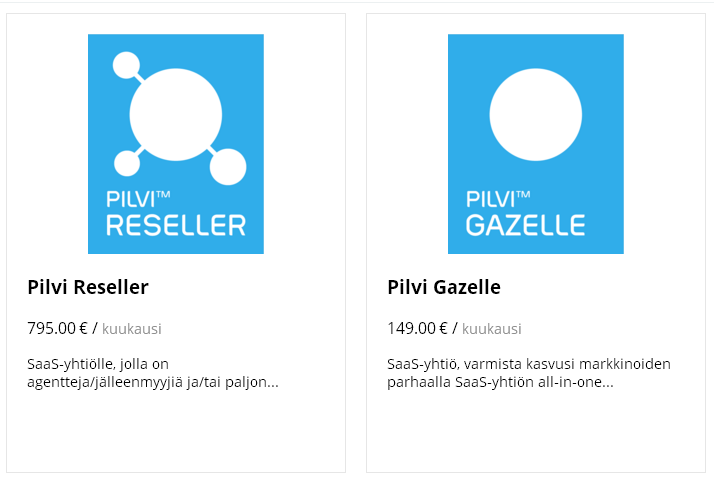 The Pilvi product pricing structure is based on the following combination:

Freemium + value-based + feature-based + volume-based. In addition, pricing has been monitored with competitors and network-based pricing to find the right level.
Remember:
The Pricing Model is not the Price

Your Pricing Model is a part of your Product Structure

You will most likely need several Pricing Models where to build the pricing of different product versions

SaaS activities are usually best suited for: Feature and Value-based pricing (together) and Freemium and other free samples – a fee later.

It is also useful to calculate cost-based pricing and to find out how to control bidding.
Contact an Expert to Help with pricing and productization:
We have done planning, product version planning, and pricing for continuous services for roughly 20 years. We can also tell you how to change the Product Plans so that revenue and profitability keep growing and customer satisfaction keeps improving. Contact Our Sales Team