Features
Pilvi™ is an online sales and subscription management software for B2B services. Digitalize your offering, start selling more efficiently and automate your customer billing with Pilvi™ Platform. Everything you need to build, develop and automate buying experience for subscriptions and services products.
Pilvi™ Platform product features are introduced as below:
Dashboard
Dashboard provides you a quick glance to your growth metrics and KPIs. Always stay up-to-speed on the key metrics of your subscription business, such as new customer signups, active services, MRR and more.
Site
Edit the theme and layout of the online shop to align with your brand visuals and colors. You are able to edit and customize shop front elements, e.g. shop page contents, email templates, categories, product cards and price plans themes.
Catalog
Manage your online offering and pricing. Create products, add product properties and product relations. Attach to categories or sub categories. Easily import product data in numbers with our bulk import tool. Finally, set up pricing and customize CTA buttons for effective conversion.
Customers
Manage your customers, their profiles and customer billing. You can add new customer profiles, edit customer data as well as create orders or make billing changes on behalf of the customer.
Discounts
Support for public or customer-specific discounts and coupons. Discounts can be set as recurring or fixed-term, and one can target these to specific accounts, products or product components.
Services
From top level view to fine-tune subscription management. Services level management interface to view and manage service properties, status and expiry. A detailed Service Timeline visualizing and tracking service changes from provisioning and billing, to renewal and expiry.
Financials
List view to shop financials – orders, quotes, customers and invoices. Variety of filtering options and combinations e.g. profile #, ID #, reference no., issue date, invoice type, invoice status and more.
Messaging
One place to manage all of your customer messaging including shop messages (email & SMS), automations and message log. Take use off-the-shelf message templates for various customer contexts from signup and onboarding, to ordering, billing and spend management.
System
Site level setups, settings and integrations to configure your sales channel and its online presentation. Here you can define your company and shop details, and include Terms of Use and Privacy Policy. Connect your Stripe account to start accepting payments and invoice your customers.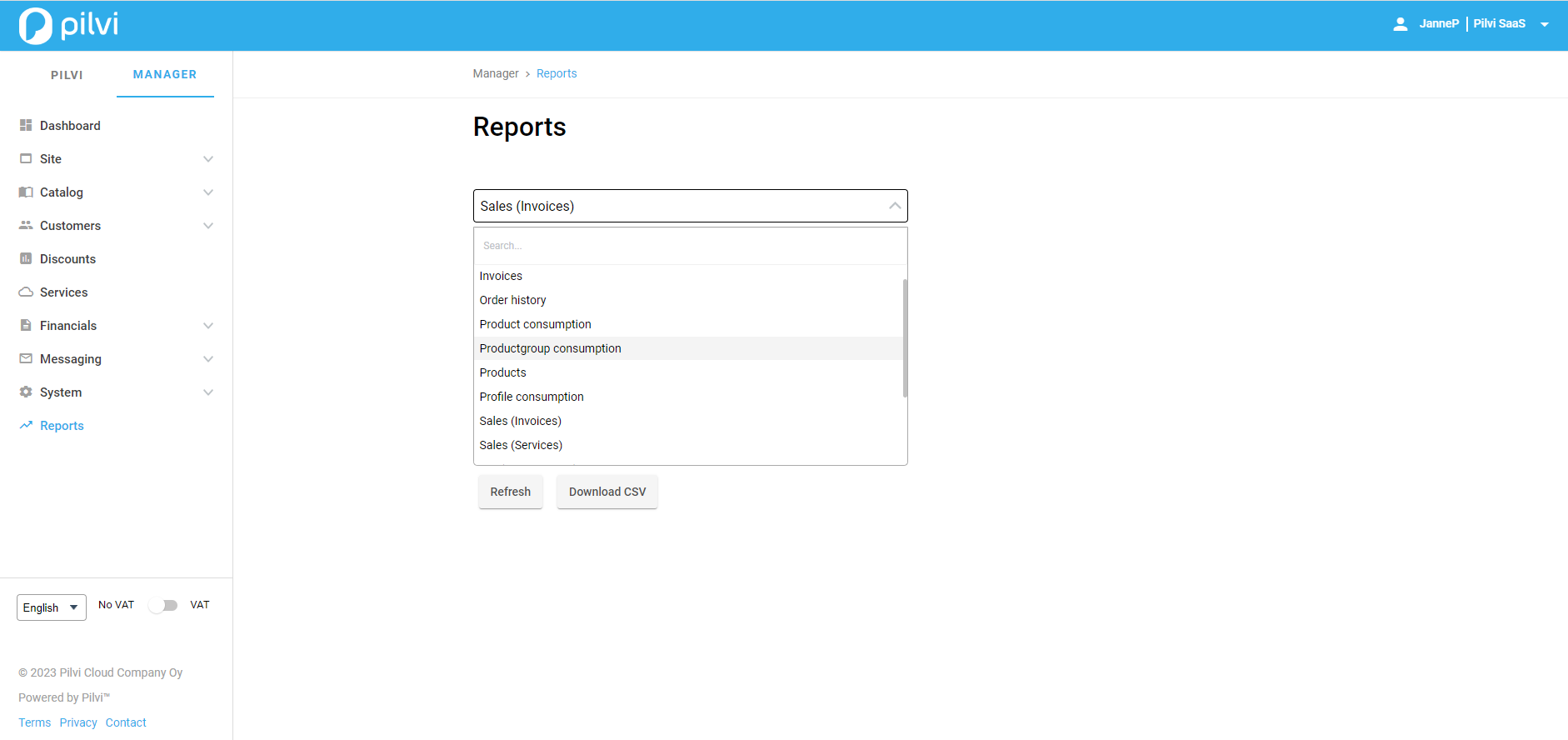 Reports
Monitor and track your online sales results and business KPI's. Filter out invoice data in custom time range or period per product, per customer, per category and based on usage / consumption. Export data in .csv-format and put it to use in your other business systems.